Well, it looks like the plans have finally come together. I am leaving on trip I have been planning for nearly a year. I have received a lot of great suggestions from friends on three web sites (k-bikes.com, bmwlt.com and advrider.com) since I first began the serious planning of this trip. I incorporated many of these suggestions into the final route. Click on any image for a larger version.
I will be making the trip on a 2007 BMW R1200GSA. This is a dual-sport motorcycle, designed for touring on many types of road surfaces. It is powered by a two cylinder 1200cc engine and is equipped with a nine gallon fuel tank. It is capable of a range of over 400 miles between gas stops. It is equipped with fuel injection, ABS and an enclosed drive shaft rear drive. I purchased the motorcycle from BMW of Denver in November, 2006.
I wrote about most of the things I did to prep my GS here.
I will be traveling with a fairly complete camera kit. My primary still camera is a Canon EOS 1Ds MkII digital SLR. It is a professional weather tight 16 megapixel camera. I will also carry the Canon EOS 5D 12 megapixel camera as a backup. The lenses will be a 100-400mm f/4-f/5.6L IS (Image Stabilized), 24-105mm f/4L IS, 14mm f/2.8L, 1.4x tele-converter and a 15mm f/2.8 fisheye. A Gitzo carbon fiber tripod, ball head and a Canon Speedlite 580EX II flash round out the kit.
Here is an overview of the trip, which should cover around 10,000 miles.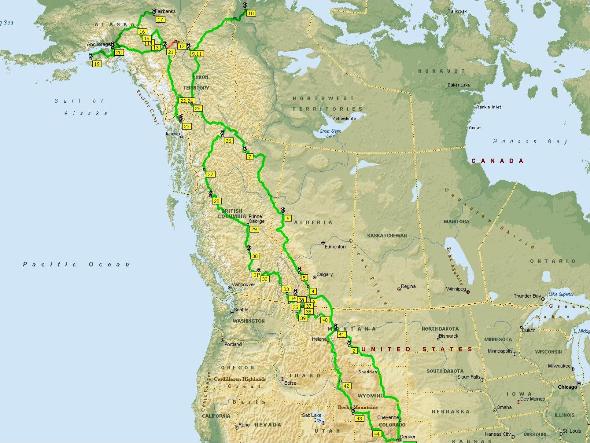 On June 1, I will head out of Aurora, CO through Wyoming to somewhere around Harlowton, Montana. On the second day I will head up through Lethbridge to Coleman, AB.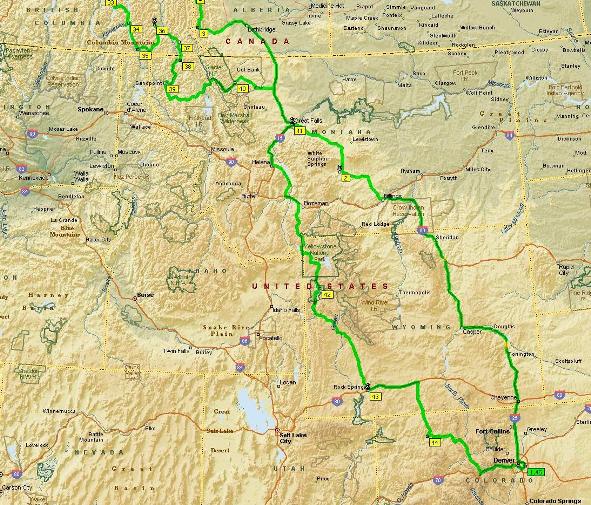 I will continue along the foothills on Forestry road 940 to just East of Banff. I will stay the night somewhere in the Banff area. Day three will take me on the Bow Valley Parkway to about Lake Louise, then up The Icefields Parkway toward Jasper. For those of you who haven't been through this part of the Rockies, it is spectacular.
Lake Louise: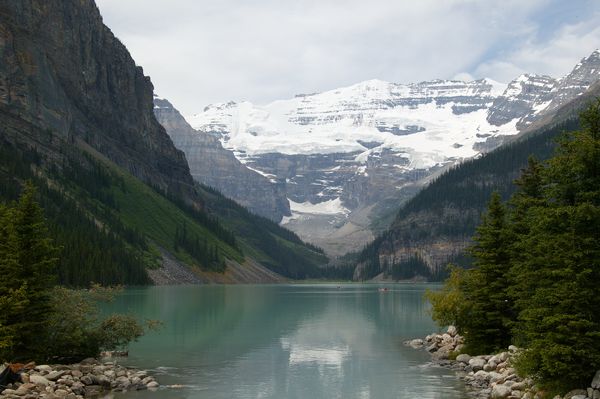 For a medium sized image click on the picture, for a full size (11mp, 8mb) picture click here
Bow Lake:
.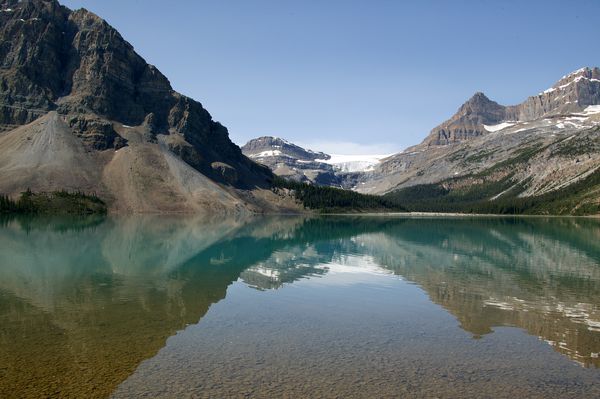 For a medium sized image click on the picture, for a full size (11mp, 8mb) picture click here.
I will stop somewhere around Grande Prairie for the third night. From there I will continue on Canada 97 and stop for the night somewhere past Fort Nelson.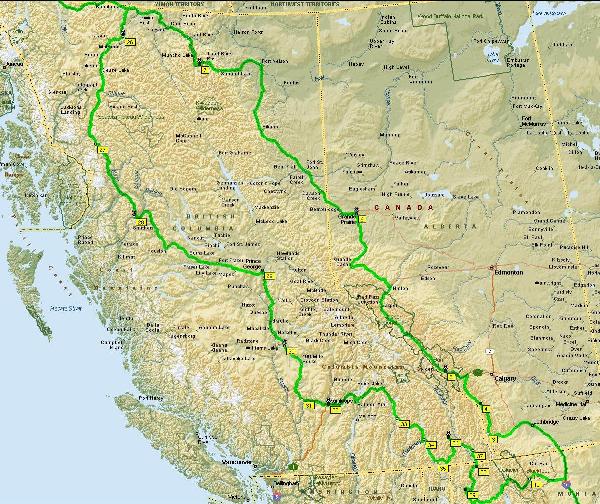 Then it is on to Whitehorse, YT where I will replace the Metzler Tourance dual-purpose tires with more off-road oriented Continental TKC80 knobbies Yukon Honda. I will keep those tires for the next 3000 miles or so until I return to Whitehorse on the way back home to get the Tourances put back on. I will ride from Whitehorse to Dawson, stop for the night . Then it is up the Dempster Highway to Inuvik, NT. Around mid way on the Dempster I will cross the Arctic Circle. Since the Dempster is 470 miles of gravel, I have allocated a couple of extra days travel in case it is slow and wet or I get too tired to press for long days. I plan on leaving Inuvik by plane for a day trip to Tuktoyatuk so I can actually see the Arctic Ocean.

I will leave Inuvik early the next morning and head back toward Dawson. From Dawson I will go toward Chicken, AK across the Top of the World Hwy to Tok. Then it is up A2 to delta Junction, south on A4 to the Denali Highway. I will stop for the night somewhere along the Denali. When I get to Cantwell, I will decide whether to go to Fairbanks and possibly further toward Deadhorse on the Haul road, or to just head south to Anchorage. The Group Sales Director I worked with for this year's Curve Cowboy Reunion at Tan-Tar-A is now working at a hotel in Anchorage. I will probably stay there a couple of days. From Anchorage I will head out on the Kenai Peninsula, possibly as far as Homer. I will depart Anchorage for Tok, then on to Haines and depending on the ferry schedule, will either take the ferry to Skagway or ride back up to Haines Junction and over to Whitehorse.

After getting the tires swapped in Whitehorse I will head back on the AlCan to the Cassier Hwy then south to Prince George. From there it is south on 97 to Kamloops, on to Revelstoke, south to Nakusp, Kaslo and Creston. I plan on staying the night in Kimberly, BC crossing back into the US at Eureka. Then it is down to Libby across on US-2 to Whitefish. If the road is good and without substantial construction delays I'll take the Going to the Sun Highway to Saint Mary. From there I will continue to Great Falls, then head south to Helena, through Yellowstone and stop for the night at the Jackson Lake Lodge to visit with the friends we made at CCR in 2005.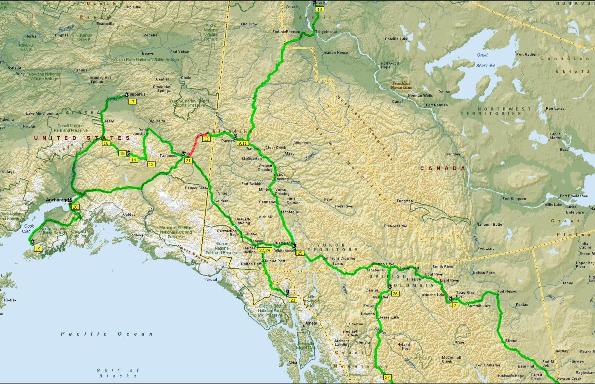 The last leg home will take me through Rock Springs, WY, Vernal, UT, Craig and Steamboat Springs, CO and back to Aurora. The plan is for returning to Aurora around the 26-28 of June.
I will be traveling with a nice compliment of photo equipment and plan on lots of time for photos. I will try to keep this web site updated as I find Internet connectivity along the way. Additionally, I hope to put together a presentation of the trip for Curve Cowboy Reunion At Tan-Tar-A later this summer. While the general route is more or less settled, I still welcome any suggestions if there is something I am missing, but near along the way. One of the things I built into this journey is flexibility of the schedule.